[et_pb_section fb_built="1″ admin_label="section" _builder_version="3.22″][et_pb_row admin_label="row" _builder_version="4.4.2″ background_size="initial" background_position="top_left" background_repeat="repeat" width="82%" max_width="533px" module_alignment="center"][et_pb_column type="4_4″ _builder_version="3.25″ custom_padding="|||" custom_padding__hover="|||"][et_pb_text admin_label="Text" _builder_version="4.4.2″ text_font="Open Sans||||||||" header_font="Open Sans|300|||||||" background_size="initial" background_position="top_left" background_repeat="repeat"]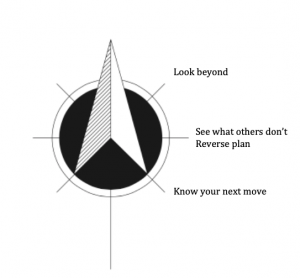 Slicing through the cool inky Swedish summer night, steady driving music my companion, the countryside flew by.  Suddenly my navigation went dark.  Tapping the screen there was nothing.
A moment ago I was following a preplanned route – everything was laid out, but now I'm coasting to the intersection in a foreign country wondering which way to go.
Flipping on the overhead light and unfolding a large map, it was the first time in a long time I'd looked at the entire country.
Figuring they knew best, I'd chosen a travel "authority's" top destinations and hit the road.
But now interesting places that I had all but forgotten rekindled my imagination.
– I could go anywhere.
Then I wondered, "If could go anywhere, which way should I go?"
– I wasn't sure.
Each destination had their unique pluses and minuses.  After what seemed like more calculating than I would have expected I took my foot off the brake started forward.
But then stopped, unsure.
Pulling over again I recalculated – I put choices side-by-side like we're told to do-adding and subtracting, thinking and re-thinking, again and again…   Every time I thought I had it all figured out and felt myself moving forward, doubt would creep in and I stopped.
Excited to go one way, but not wanting to miss out on the other.
I'd start and stop  – argh!!!
Good grief.
I thought, "No wonder it's so hard to make real progress, to get where we really want to go – we're so bogged down in this tangled logic of "what if's" and "yeah, buts…"
It just seems to keep getting more complicated.
– but what if it wasn't?
I wondered, "If there was one question I could ask myself to cut through all the complication what would it be?"
Then I did one thing
I changed my vantage point.
I Imagined flying up and over this fork in the road and into the future.
Imagining myself at home remembering my trip, I asked myself, "What do I want my story to be?"
And there it was, a simple and immediate answer.
I knew exactly what I wanted my story to be and exactly where I wanted to go.
Placing my finger on that place on the map I traced the road back to where I was right now, I knew exactly how to get there.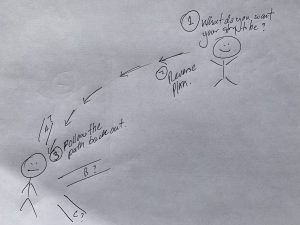 [Looks like this]
Back on the road I was excited, I had this sense of knowing where I was going was right – and soon I was there.
So can you.
Starting now.
What about you?
Try it.
Life, career, date, dinner..
What do you want your story to be?
Really get a sense of it.
Now lay down the tracks down from there to here – I call it Reverse Planning.
There's your path.
Hit reply and let me know what you're thinking.
TRUEFREEDOM: Always within arm's reach
Links. 
See Sweden here: stories, pictures, maps, resources… 
If you'd like to see inside how I use the same thinking in business, check ou my REWIRE Business Lab.
Look into all the engines that fuel my TRUEFREEDOM, click here.
[/et_pb_text][et_pb_post_nav _builder_version="4.4.2″][/et_pb_post_nav][/et_pb_column][/et_pb_row][/et_pb_section]