[et_pb_section fb_built="1″ admin_label="section" _builder_version="3.22″][et_pb_row admin_label="row" _builder_version="4.4.2″ background_size="initial" background_position="top_left" background_repeat="repeat" max_width="528px"][et_pb_column type="4_4″ _builder_version="3.25″ custom_padding="|||" custom_padding__hover="|||"][et_pb_text admin_label="Text" _builder_version="3.27.4″ background_size="initial" background_position="top_left" background_repeat="repeat"]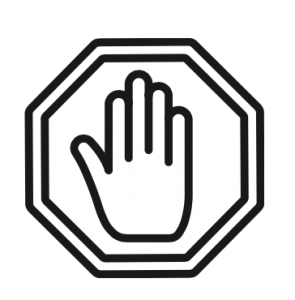 Sometimes deciding what to stop doing is more important that what to start doing.
The deepest most soulful dive I've ever taken was on my birthday.   Looking in the mirror I sighed, "I need a vacation."  But then I thought "No, that's not it – what I really want is a life I don't feel I want to escape from."
But reaching the end of each busy day, gasping for breath, life was blurring by, too busy to apply new things I'd learned
My plate was full.
– like I didn't have brain space let along breathing space
Then it hit me.
– If I wanted true freedom, I'd have to make space for it.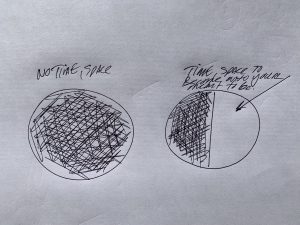 [Looks like this]
Imagining missing my best life because I was too busy drove me to find space.  Small islands of breathing space unlocked creativity and curiosity in ways that created more breathing space – the more the lights came on the more the lights came on!
Suddenly all those books, seminars – all the things teachers were trying to teach me made sense.
But what really surprised me was how it changed my thinking, connected me up with new opportunities I never imagined and enabled true freedom.
– What haunts me is how easy it would have been to miss.
That day looking in the mirror I suddenly realized:
I can do this.
So can you.
Starting three ways:
Shed Load
Get your bearings
Sidestep Negativity
I challenge you to make space.
Try it.
You be the judge.
Let me know what you find.
Reply and let me know what you're thinking.
TRUEFREEDOM: Always within arm's reach
Links
Sidestep Negativity
If you'd like to see inside how I use the same thinking in business, check ou my REWIRE Business Lab.
Look into all the engines that fuel my TRUEFREEDOM, click here.
[/et_pb_text][et_pb_post_nav _builder_version="4.4.2″][/et_pb_post_nav][/et_pb_column][/et_pb_row][/et_pb_section]